Airbnb is looking to potentially raise $1 billion in an IPO by the end of the year. And while we mostly do stories on the Indian markets, we thought we would switch it up this week and do a story on something more international. So yeah, hopefully, you'll enjoy this one.
---
The Story
For the uninitiated, Airbnb is an online marketplace that offers lodging, homestays and your run of the mill bed and breakfast facilities. They don't own any of the real estate, but they do offer a pretty decent experience.
So if you are visiting Italy and want to spend some time by the countryside, you go on the app and maybe you'll find a local resident in Tuscany who'll offer you a room in his apartment for a few days. You get to enjoy the landscape and the homeowner gets to make some extra income on the side.
It's a beautiful arrangement, which is one of the reasons why the company has been growing at breakneck speeds. In fact, as recently as 2017, the company was valued at a whopping $31 billion.
Unfortunately, with Coronavirus taking centre stage, it's mayhem at Airbnb right now.
They have already lost over a hundred million dollars since the beginning of this year. They've told investors they are expecting to see a sharp decline in revenues (less than half of what they made last year). Their plan to go public in 2020 (through an IPO) is now fully on the back-burner. There have also been murmurs about cash flow problems on the side and despite a $1 billion lifeline from two prominent investors, the company's prospects look bleak.
We wrote this in April 2020.
But since then, the company has rebounded rather spectacularly. In fact, they even turned a profit of $219 million during the 3rd quarter (between July and September)
So what changed?
Well many things. But here's the gist of it.
Most people (including us) believed that a ban on international travel would deal a crippling blow to the company. And it did. In fact, once the travel ban kicked in, bookings tanked. And during March it reached a crescendo when net bookings dropped to -4.1 million. Yes, that's a negative figure, and if you're wondering how that happened. Well, the company saw 19 million bookings for the month of March, but they also saw 23 million cancellations. So technically, there were more cancellations than actual bookings.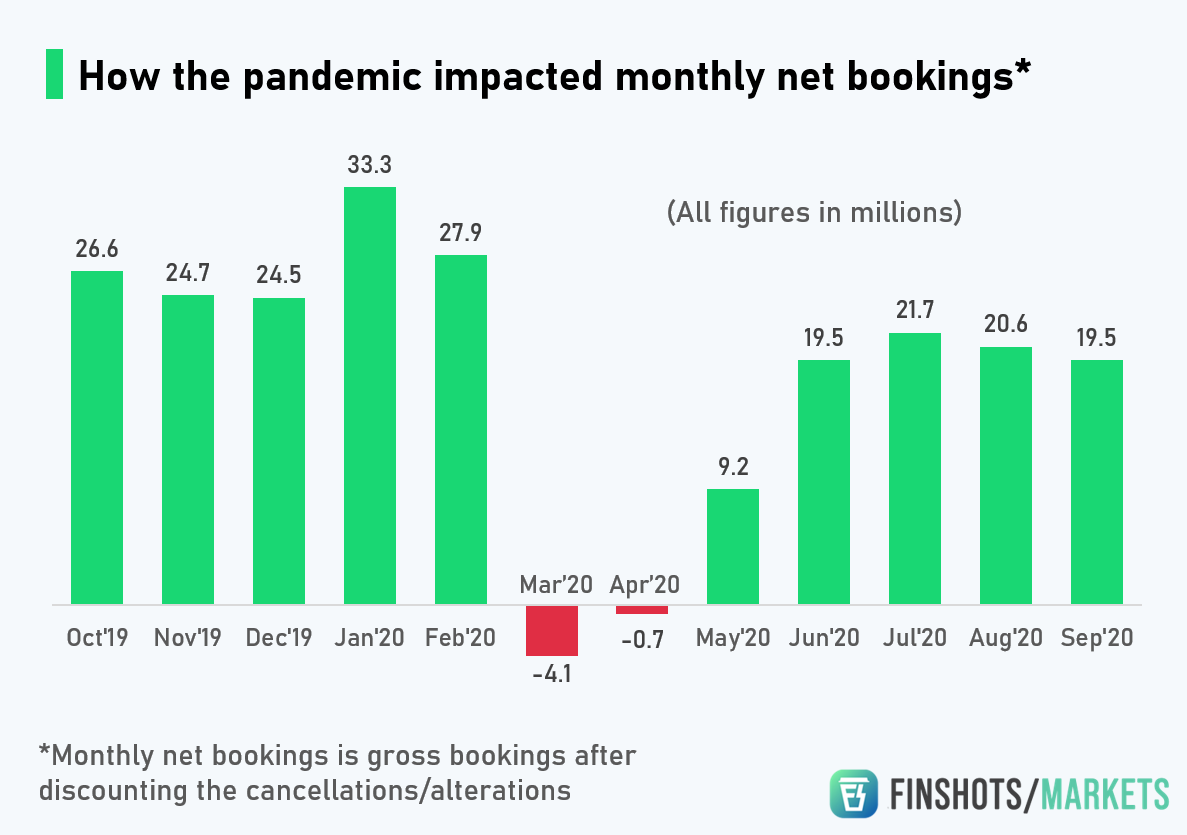 However, while international travelers were skeptical of travelling, same-country travel was taking off in a massive way. As Brian Chesky, the co-founder put it, there was a "redistribution of travel". People ditched air-planes for more intimate local drives. They opted for secluded cabins and remote locations instead of touristy destinations. More importantly, people were taking extended time off of work and as a result, long-term stays (28 days+) were up significantly. It was all happening bang in the middle of a pandemic. That's not to say that Airbnb had it easy. Remember, they still had to match demand and supply. If people were opting for local destinations, they had to focus on ramping up supply in those areas. They had to get more homeowners on board and convince them to list their properties on Airbnb.
In fact, the company did one better. While quickly adapting to the changing dynamics, they also aggressively cut down costs. They pruned marketing spends, put some aggressive expansion ideas on hold, laid-off employees and focused on the main business for the most part.
We say for the most part because they are still not out of the woods yet. Airbnb saw its gross booking revenue drop by 39% and their sales drop by 32% between January-September when compared to the same period last year. But it's still a very resilient show, considering their competitors, including Booking.com and Expedia have been struggling to turn the tide.
But an IPO is different. We aren't just talking about the here and now. We are talking about the future of the company as well. And there are a host of risks associated with investing in the company, especially a tech company like Airbnb. For starters, you have regulatory concerns. Lawmakers are increasingly perturbed by the growing prevalence of rowdy incidents/parties hosted in Airbnb properties and have framed regulations or might frame regulations to keep the unabated growth of the platform in check.
Then there is the long term threat of tech giants eating into your pie. As the company's prospectus noted —
"We believe that our SEO results have been adversely affected by the launch of Google Travel and Google Vacation Rental Ads, which reduce the prominence of our platform in organic search results for travel-related terms and placement on Google… To the extent that our brand and platform are listed less prominently or fail to appear in search results for any reason, we would need to increase our paid marketing spend which would increase our overall customer acquisition costs and materially adversely affect our business, results of operations, and financial condition."
But more importantly, there is the fundamental question of growth. Where will growth come from?
After all, growth in the company's core markets — London, Paris, and New York have been saturating and so the company has had to focus on expanding elsewhere. But will the journey be as rewarding as it has been so far? That's the million-dollar question investors will have to answer.
If you could, would you invest in the Airbnb IPO? Tell us on Twitter.
Until then…
Share this Finshots Markets on WhatsApp or Twitter.
---
A Work from home tax?
What if we told you Deutsche bank is advocating for an added tax on people working from home? And what if we told you they are serious about it? Well, in this week's Finshots Daily we covered a radical idea surrounding "privilege tax" and the probable implications of such a move. You should definitely read this if you are working from home right now
Don't forget to share this Finshots Markets on WhatsApp or Twitter.