In today's Finshots we see why Netflix's stock price tanked 20% last week
---
The Story
Last week wasn't a memorable one for Netflix. And it came against the backdrop of what has been a stellar year for the company.
Netflix had the biggest TV show of the year (Squid Game). They had the two biggest film releases of all time (Red Notice and Don't Look Up). They had the most Emmy nominations and Oscar nominations for 2021. And they hosted 7 out of the top 10 most viewed TV shows of 2021.
These are exceptional figures. And yet, despite all this, they failed to add new subscribers at the same frenzied pace they did last year. According to newly released quarterly results, the streaming giant added only 8.3 million new subscribers in the last quarter. Now that number may seem decent at first, but it is likely a disappointment since the company's own estimates put the figure at 8.5 million subscribers. They fell short of their own projections.
What's worse?
The future looks bleak. According to Netflix's estimates, they are likely to add some 2.5 million subscribers in the first quarter of 2022. For context, they added 4 million subscribers during the same period last year. And while that may not look like a big deal, it's an alarming figure for somebody in the streaming business.
New subscribers roughly equate to new growth and by extension, earning potential. If you are not adding new subscribers fast enough you are not growing fast enough. And if there is a common consensus that this is in fact the case, then company shareholders won't show mercy.
Case in point — Netflix's stock price plummeted by over 20% last week. It was no longer Netflix and chill.
So, what gives? What's happening to the streaming giant?
First off, Netflix believes it is a victim of its own success. Back in 2020, when people found themselves locked inside their homes for several hours at a stretch, Netflix was a godsend. People signed up in droves. In fact, they added around 37 million new subscribers in that year alone. But 2021 wasn't like that. Countries began opening up and subscriptions didn't quite grow at the same pace. They added 18 million new subscribers last year, a far cry from 2020. In its letter to shareholders, the company dubbed it "the Covid overhang."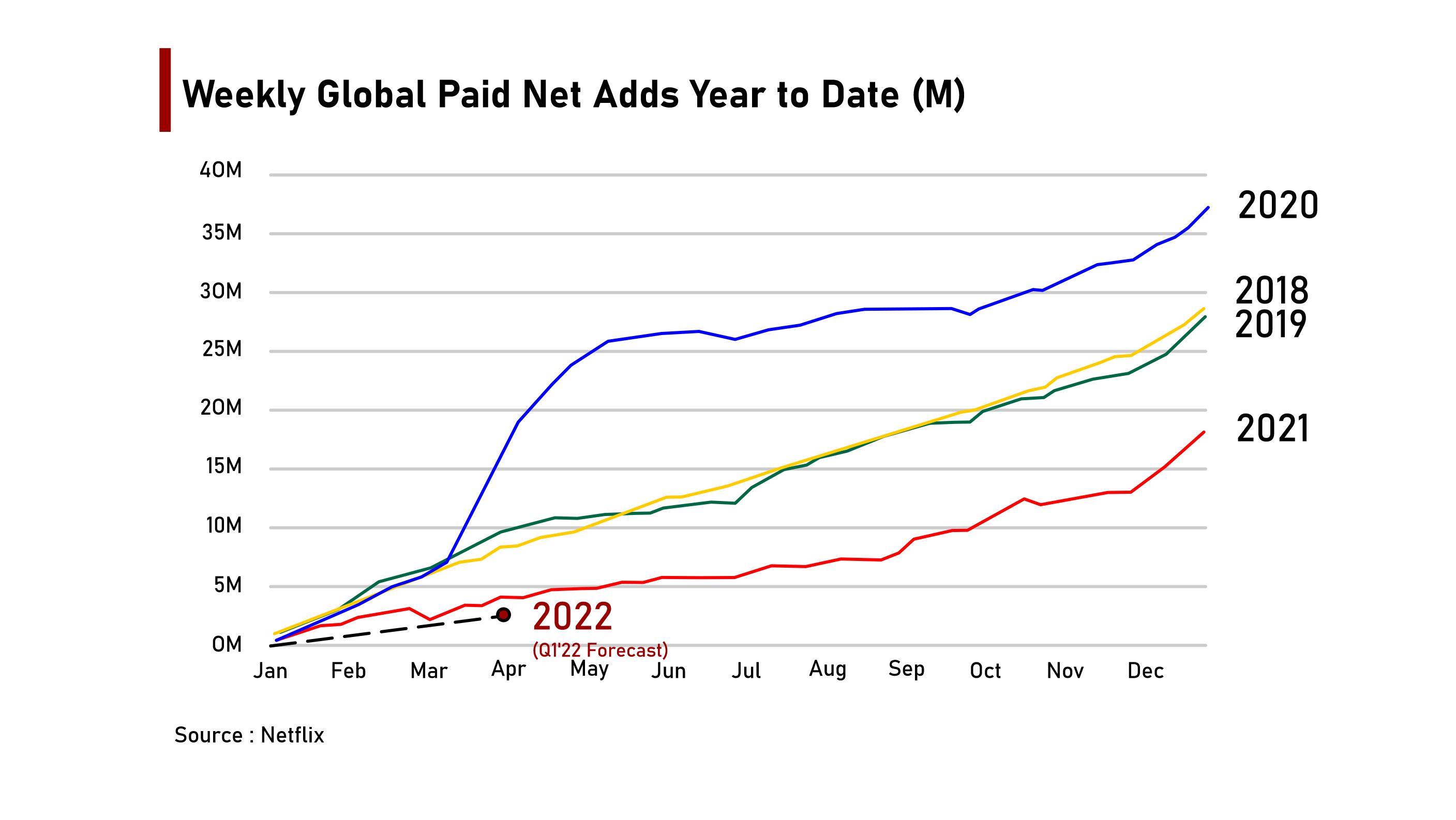 Also, the resurgence of Covid in many parts of the world, especially in Latin America (one of Netflix's key growth markets) didn't help its cause. With money hard to come by, it's possible many people hit the unsubscribe button. It's difficult to tell since Netflix only called it "macro-economic hardship".
Speaking of key growth markets, ~60% of Netflix's revenues now come from non-US markets. Effectively, this means Netflix gets paid a lot of money in currencies that are not denominated in dollars. So, when the US dollar appreciates in value against the rupees, for instance, it gets to take home fewer dollars than it would otherwise. And unfortunately for Netflix, the dollar did strengthen significantly against most other currencies over the past year. And this according to their own estimates could cost them as much as $1 billion in lost revenue in 2022. (Also in their own admission they don't hedge or protect against this risk)
Then there is the poor showing in India.
Once upon a time, Netflix harboured grand ambitions here. It was supposed to be the centrepiece of its design for global domination. So much so, that in 2018 Netflix CEO Reed Hastings famously proclaimed that the company's next 100 million subscribers were most likely to come from India. However, if the recent results were any indication, those 100 million subscribers are not coming from India anytime soon. While Netflix doesn't explicitly disclose subscriber numbers for the country, they are believed to have a subscriber base of 5.5 million. This is modest when you compare to Amazon Prime Video and Hotstar, who boast ~22 million and ~46 million subscribers, respectively.
In fact, Reed Hastings expressed his disappointment about India in an earnings call recently. He said — "The great news is, in every single other major market, we've got the flywheel spinning. The thing that frustrates us is why haven't we been as successful in India, but we're definitely leaning in there".
And he is right, Netflix is working on fixing this aberration. They slashed prices for India. They introduced a special mobile-only plan for the Indian market. And they even earmarked a whopping ₹3000 crores to produce India centric content. But so far, it hasn't worked to their advantage. Some people think it's because they don't have a lot of relatable content. Others believe that the prices are too high. And maybe it's a combination of both. But if Netflix can produce one  certified local hit, maybe it could turn a corner. Maybe it can go on to create a catalogue that Indians will come to love. As they say, Nothing works until something does.
And we hope that something does work for Netflix soon enough.
Until then…
Don't forget to share this article on WhatsApp, LinkedIn and Twitter